ALUMNI VOLLEYBALL
Four former Griffin volleyballers — Geena Urango (LAHS '07), Emily Hartong ('10) and Crissy Jones ('14) and Paul Lotman ('04) on the men's side — had high hopes going into last week's AVP Open beach volleyball tournament at Manhattan Beach, one of the top weekends of beach ballin' outside the Olympic games.
Crissy Jones had the highest hopes after coming off a great showing at the AVP Atlanta tournament where she and partner Zana Muno reached the semi-finals. (They also started the tournament by defeating fellow Griffin alum Urango and Falyn Fonoimoana in the first round).  They were seeded 11th at Manhattan Beach, but unfortunately Jones had to withdraw Friday morning due to an injury.
Urango and her teammate Falyn Fonoimoana made it through the Wednesday and Thursday qualifiers to earn the 16th seed going into Friday's one and done knock-out rounds.  They won their morning match but had the misfortune of next playing Olympic champions Alix Klineman and April Ross.  Urango and Fonoimoana were edged 21-19 in the first set and won the secon set 21-15, but the Olympic Gold medalists prevailed and would eventually capture the tourney championship.
Hartong and her teammate Corinne Quiggle entered the tournament as the 12th seed and came away with two Friday wins, defeating Hailey Harward/Julia Scoles (21) 19-21, 21-17, 15-12 in the morning and capping it off with an afternoon win over No. 5 seed ___ Cannon-Stockman.  This set up a Saturday morning match against former Mater Dei rival Sara Hughes and Canadian Olympian Brandie Wilkerson.   The latter prevailed.
Hartong and Quiggle did not qualify for the Atlanta Open so they had to rush up to Seaside Oregon to play for one of the remaining spots that would qualify a team for the Big Show at Manhattan Beach.
On the men's side, former Griffin Paul Lotman (LAHS '05), who also a late blooming star at Long Beach State who went on to earn a spot on the US national team at the 2016 Olympics in Rio, made an impressive run.  He and partner Miles Partain, won both their Friday matches to earn an encounter with the fourth seed of Trevor Crabb and Tri Bourne.  The higher seed prevailed and went on to become the champions.
The complete brackets and scores are available here.
---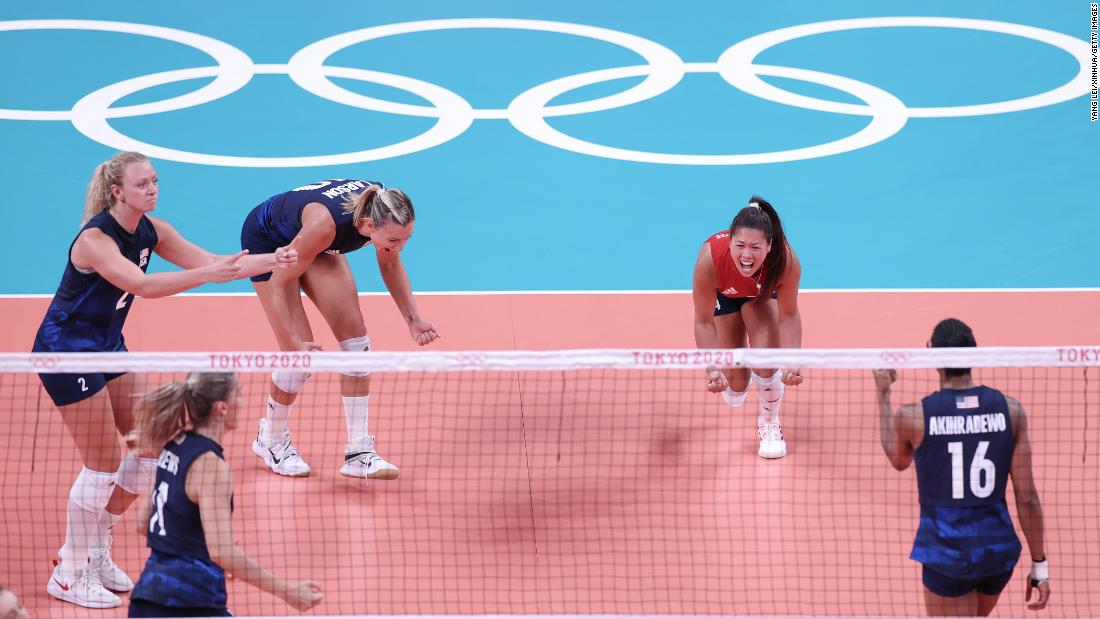 And of course Justine Wong-Orantes is still basking in the glow of the US Volleyball team's gold meadal performance at the recent Tokyo Olympics.
Her performance has played a part in a slew of articles on the success of Asian and Pacific Islanders at the Tokyo Olympics (CNN), as well as articles and discussions on the lack of Asian-Americans in the Olympics and the inevitable accusations of racism.
BASEBALL:
It's been quite the season for former Griffin pitchers who have made their debut in the Big Leagues.
Tylor Megill continued to make New York Mets fans and management happy as he delivered six stellar innings against the best team in baseball in the San Francisco Giants. Megill gave up just one run on five hits, had six strikeouts on 90 pitches, and lowered his ERA to 3.21 on the season across 11 starts.
It was an up and down month for another former Griffin pitcher, Darren McCaughan (LAHS '14).  McCaughan started the season with the Tacoma Rainiers and over 10 starts with the Triple-A team he struck out 46 batters in 59 innings.  Due to some injuries to the Seattle Mariners pitching staff, McCaughan was called up on July 21.  That night he made his major league debut, pitching five hitless innings in relief against the Colorado Rockies.   That earned him a spot as a starter a week later against the Houston Astros.  After starting out with a strikeout, the Astros then lit up the Griffin alum for eight hits and seven earned runs in four innings.   Within a couple days McCaughan was sent back to Tacoma where he has turned in some quality outings.
---
Orlando Scandrick has joined the football coaching staff at Los Al as an associate head coach. Scandrick was a member of the Class of 2005, and a Griffin team that reached the Division I semi-finals and lost to Loyola in a classic game that saw the Lions hold on four plays at the goal line.  After playing on some good teams at Boise State, Scandrick had a long carer with the Dallas Cowboys.
He also recently sold his San Fernando Valley home for $3.4 million, according to Forbes magazine and also made some news when he commented on the NFL's new Covid-19 game forfeiting policy.