With seniors leading the way, the Los Al Varsity Girls Volleyball team improved to 2-0  with a 3-1 win over Millikan (25-16, 25-19, 22-25, 25-19) on Thursday afternoon at the Long Beach school.
Senior Middle Hitter Chase Koepke led Griffins with 15 kills, while senior libero Kylie Jenkins had 12 digs and senior setter Sydney May had 23 assists.
The JVs and Frosh-Soph completed the day's sweep.  The JVs improved to 6-1 on the season with a 2-0 shutout, while the Frosh-Soph won 2-1.
Los Al Varsity and JVs return to action Tuesday with another road match against Long Beach Wilson, then play their home opener on Thursday against San Clemente.    The Frosh-Soph compete in the Newport tourney this weekend.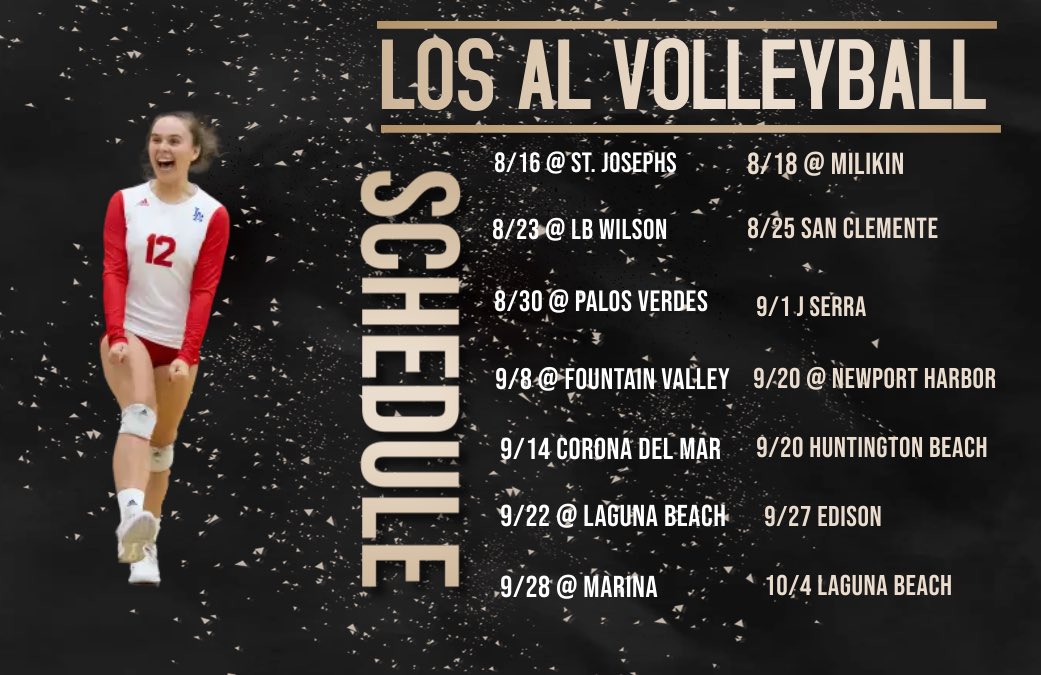 Cypress def. Canyon, 23-25, 25-14, 25-19, 20-25, 19-17
Oxford Academy def. Santa Ana Valley, 25-21, 25-15, 25-20
---
FOOTBALL:  Griffins open tonight at Bakersfield Garces Memorial
The Los Al Al Varsity football team is finally upon us, as the highly ranked Griffin Varsity opens its season tonight in Bakersfield against Garces Memorial High.
How good are the Griffins?  If you don't make the trip over the Grapevine, you can apparently still see for yourself as Garces website says you can view the game on the GMSN (Garces Memorial Sports Network) on Youtube at https://youtube.com/channel/UCiRkzXqe5ODUpmhJlynmkMA. (Or you can just click the box below).   Garces sports administrators note that Griffin fans should beware of other sites claiming to broadcast the game, especially ones seeking a fee.  "Don't pay for a fake stream when we offer it to you, our fans, for free."