GRIFFIN SPORTS: Prep Summer 7on7 Passing Leagues Get Serious
The summer high school passing league tournament season kicks into serious gear this weekend.  Los Al. considered one of SoCal's top public school programs, will appear in the trojan Classic 7v7 passing tournament which begins Saturday at 7:30 and lasts until 3pm.
Among the other expected entries are Mater Dei,
Santa Margarita, Calabasas, Chaminade, Oaks Christian, Rancho Cucamonga, Serra and Sierra Canyon.  More can be read in the OC register.  USC holds verbal commitments from Los Alamitos quarterback Malachi Nelson and wide receiver Makai Lemon.  [On a side note, ESPN and others reported that Nelson, the No. 2 quarterback recruit in the nation, could earn as much as $1 million in endorsements before he ever sets foot on the USC campus next year.]
The Griffins will also play at Edison's 24 annual Bash at the Beach on July 9 and Mission Viejo's 27th annual South County Passing Tournament and Lineman Competition.
Cypress will play Friday evening at Corona Del Mar at the Sea Kings host their inaugural Battle of the Bay 7 on7 tournament.
Los Al Girls VB set for Div 1/2 playoff groupings in latest CIF list
he Los Al Girls Volleyball team will remain in the Division 1/2 playoff groups per the initial list released by the CIF a few days ago.  The groupings are based on performances over the past two seasons.  Since the Fall 2020 season was canceled due to Covid, the 2019 finish accounted for 25%, and the 2021 performance accounted for 75%.  The Griffins finished 14-15 in 2021.  The list can still be adjusted.
LOCAL ALUMNI:  Fattal & US Women seek another Water Polo title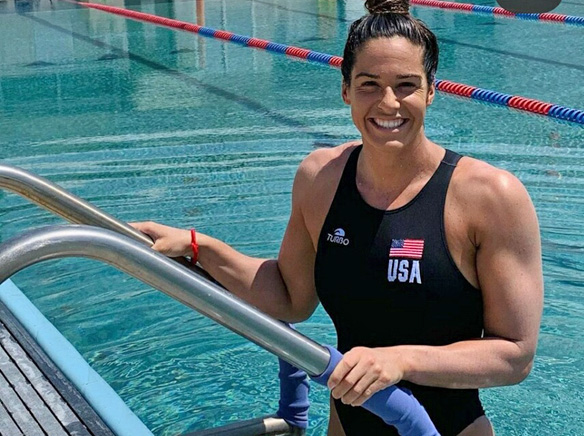 Rachel Fattal (of Seal Beach, LAHS '11, UCLA) and the rest of the US Womens National Water Polo team started off their quest for another FINA World Championship with a 24-2 win over South Africa on Monday, and a 11-7 victory over the Netherlands on Wednesday.  They complete their first round on Thursday against Argentina at 12 PM. EST).   Also playing on the team this year is rookie Bayley Weber of Los Alamitos, a 2018 grad of Los Al and a second-team All-American at USC the past two years.
For viewers in the United States, games are being streamed via the FINA facebook page: facebook.com/fina1908.  At the conclusion of group play, the top team in each group will receive a bye to the quarterfinals. The second- and third-ranked teams will compete in a crossover playoff round to determine four remaining quarterfinalists.
Former Griffin basketball standout Landy Fields (LAHS '06) makes his first national appearance as the new General manager of the Atlanta Hawks at the NBA Draft which will be broadcast this afternoon on ESPN beginning at 5pm PST.  The preshow begins at 4:40pm.
YOUTH SPORTS
Since Friday Night Lights starts its latest round of family fun tomorrow evening, we thought  we might as well run photos of the recent Spring League Champions, the Oregon Ducks (Grades 1-2), Florida Gators (Grades 3-4), Penn State Nittany Lions (grades 5-6), and the Arizona Cardinals(Grades 7-8) .  You can view them here.
You can also view the St. Hedwig Pony All-Star rosters and photos here.
Send any of you local sports stories and photos to accesslosal@gmail.com.